Fund Raiser to buy a new "Baby Ass" Flag for Sam's Army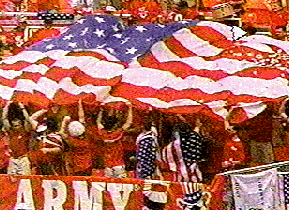 UPDATE: We did it! $310 dollars raised in 36 hours! The flag has been purchased! Additional donations are welcome and will be put into a fund for flag shipping between games and maintenance/cleaning. THANK YOU TO EVERYONE THAT CONTRIBUTED TO THIS EFFORT!!! It appears that the 20' x 30' flag affectionately known as "The Baby Ass" flag by Sam's Army (as opposed to it's big brother the Big Ass Flag) has seen better days and may very well be on its last legs. One Sam's Army supporter has even spent $200 of his own money to get the Baby Ass flag cleaned and ready to go to Germany. In order to preserve the flag, it is best not to use it until Germany so this means that the Baby Ass flag will not be available for the games in Cary, Nashville, Cleveland, or Hartford. I have found a line on a used alternative for only $300 (a really, really good price on a flag this size). I am hoping that all of Sam's Army will come together and donate $5 (or more) a piece to go to purchasing a new 20' x 30' flag for the supporters. The money raised will go directly to buying the flag and shipping it between Cary-->Nashville-->Cleveland-->Hartford. After those four games, the flag will be maintained by Triangle Soccer Fanatics and will be available for use by supporters at any US National Team event. To make a $5 donation to the fund drive via PayPal, click on the "Add to Cart" button below. If we could just get 20 people that are attending each of the games in Cary, Nashville, Cleveland, and Hartford to donate $5 a piece, we'd have more than enough to buy the flag and ship it between the sites.
Note: If you'd like to give more than $5, just change the quantity at checkout to reflect the number of $5 donations you'd like to make!
Thank you for your support of Sam's Army and the US National Team!
-- Jarrett @ 3/14/2006 03:55:00 PM